U of R – Find Balance – 60 sec.
Golf's Steakhouse Campaign
| | |
| --- | --- |
| Submitted By: | Bravo Tango Advertising | Bravo Tango Advertising |
| Job Title: | Designer/Art Director |
| Client: | Westerra Regina |
| Client Business: | Residential and Retail Land Development |
In a city where new neighbourhoods seemed to be popping up monthly, it was important to the developers that this complete community would stand out from the rest. After leading an in-depth brand discovery session with our clients, we were able to develop a one-of-a-kind identity, including the Westerra name, logo, tagline, visual ID, and language. The tagline "A New Neighbourhood, Designed Differently" successfully communicated that this community would be completely unique. All visuals, including original illustrations, were designed to highlight and emphasize the fact that Westerra is unlike any other community in Regina. Creative executions supported this idea by highlighting various features that would be available within the community, including a wide variety of housing styles, ample green spaces, retail and boutique shopping, as well as a business park. The launch campaign included a wide media mix, including outdoor, online, television, transit, print, and social media posts.
Art of Vintage Rentals Photo Shoot
2015 Edwards School of Business Holiday Greeting Card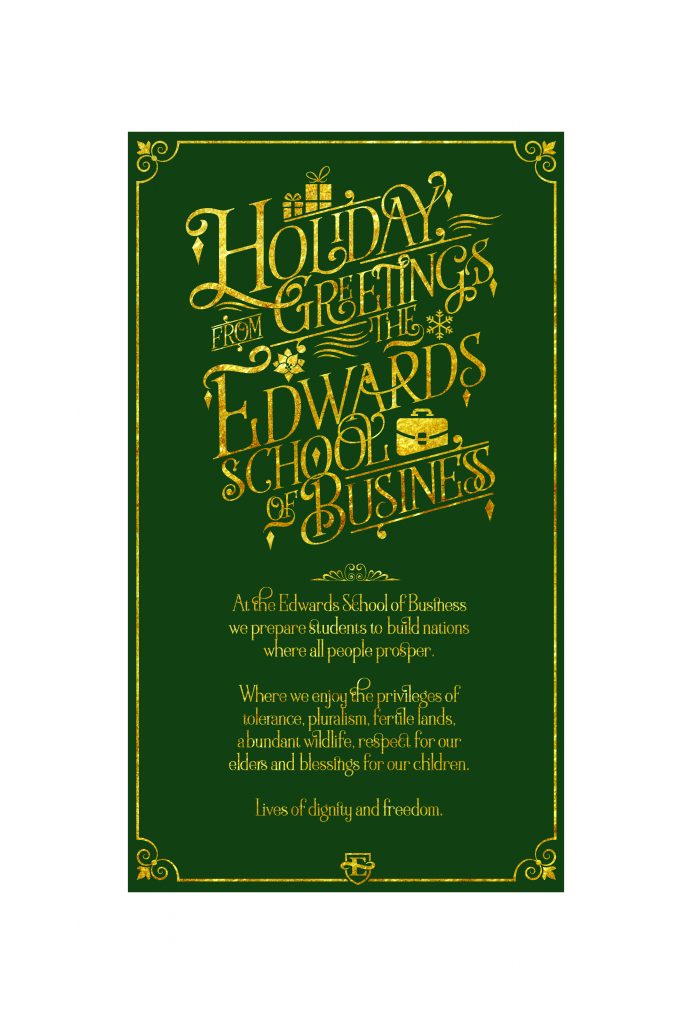 | | |
| --- | --- |
| Submitted By: | Larry Kwok | Edwards School of Business, University of Saskatchewan |
| Job Title: | Marketing Coordinator |
| Client: | Edwards School of Business |
| Client Business: | Post-Secondary Business Education |
The Annual Edwards School of Business Holiday card needed to be a special piece that celebrated the holidays from the business college. The Dean required a design that expressed holidays, but also reminded recipients that this was coming from the business school. The card was sent out to all students, faculty, donors, staff, alumni and friends. The use of green was something that traditionally emphasized the holidays, but is also the colour of the Edwards School. Gold foil for the lettering symbolized the holidays and gave a sense of wrapping paper and ribbons. The letterform was also sprinkled with images of snowflakes, decorations and gifts, but also subtlety a briefcase icon to establish both feelings of holiday cheer and business.